This chapter presents analysis of many foundation examples. These examples are presented in order to
verify the mathematical models used in ELPLA by comparing ELPLA results with closed form or another published results
illustrate how to use ELPLA for analyzing foundation by different subsoil models
The examples discussed in this chapter cover many practical problems. For each example discussed in this book, data files and some computed files are included in ELPLA software package. The file names, contents and short description of examples are listed below. Besides, a key figure of each problem that contains the main data concerning the foundation shape, loads and subsoil is also shown.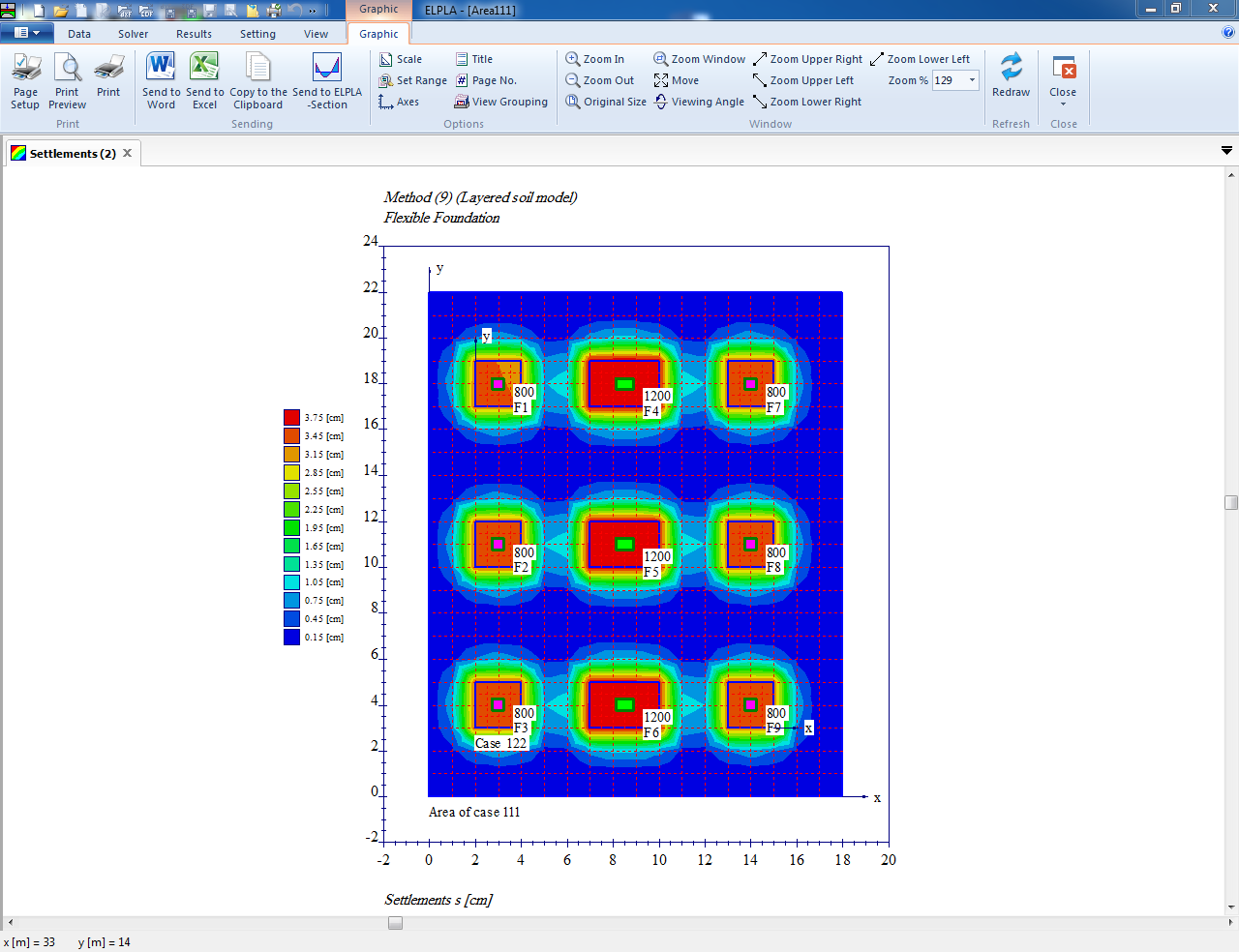 Example 1: Stress on soil under a rectangular loaded area
To verify the vertical stress at any point 
A 
below a rectangular loaded area, the stress on soil obtained by 
Das 
(1983) (Example 6.3, page 370) using influence coefficients of 
Newmark 
(1935) are compared with that obtained by 
ELPLA
.
A distributed load of q = 50 [kN/m2] acts on a flexible rectangular area 6 [m] × 3 [m] as shown in Figure 1. It is required to determine the vertical stress at a point A, which is located at a depth of z = 3 [m] below the ground surface.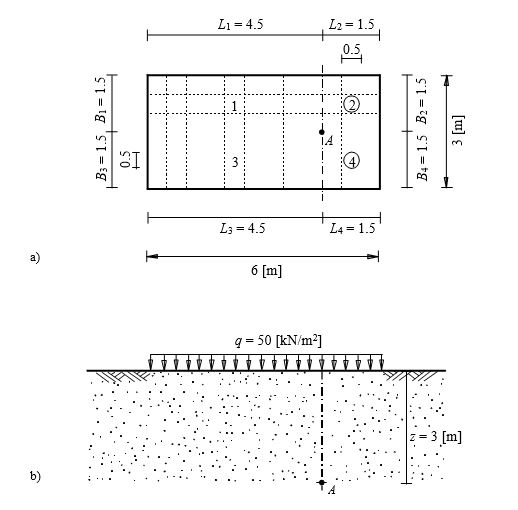 Example 2: Stress on soil under a circular loaded area
Example 3: Immediate settlement under a loaded area on Isotropic elastic-half space medium
Example 4: Immediate settlement under a rectangular loaded area on layered subsoil
Example 5: Immediate settlement under a circular tank on layered subsoil
Example 6: Consolidation settlement under a rectangular raft
Example 7: Consolidation settlement under a circular footing
Example 8: Rigid square raft on Isotropic elastic-half space medium
Example 9: Rigid circular raft on Isotropic elastic-half space medium
Example 10: Flexible foundation and rigid raft on layered subsoil
Example 11: Ultimate bearing capacity for a footing on layered subsoil
Example 12: Simple assumption model for irregular raft
Example 13: Main modulus of subgrade reaction ksm
Example 14: Beam foundation on elastic springs
Example 15: Grid foundation on elastic springs
Example 16: Elastic square raft on Isotropic elastic half-space soil medium
Example 17: Winkler's model and Isotropic elastic half-space soil medium
Example 18: Simply supported slab
Example 19: Iteration methods
Example 20: Influence of overburden pressure
Example 21: Influence of load geometry
Example 22: Settlement calculation under flexible foundation of an ore heap
Example 23: Settlement calculation for a rigid raft subjected to an eccentric load
Example 24: Deflection of a thin cantilever beam
Example 25: Forces in piles of a pile group
Example 26: Analysis of a continuous beam
Example 27: Moment in an unsymmetrical closed frame
Example 28: Analysis of a plane truss
Example 29: Influence of Poisson ratio
Example 30: Verifying the interaction between two bridge piers
Example 31: Group of isolated footings
Example 32: Displacements of a cantilever beam with a coarse net
Example 33: Displacements of a plate with a hole
Example 34: Stresses beneath a uniformly loaded strip