Memories of Prof. Manfred Kany on his 100th birthday
On May 31, 2022, Prof. Manfred Kany would have been 100 years old.




Prof. Manfred Kany (*1922; †2011) studied civil engineering in Darmstadt and then became an assistant of Prof. Detig at the chair and laboratory for hydraulic engineering and soil mechanics at the Technical University of Darmstadt, where he received his doctorate in 1955. His dissertation dealt with the calculation of foundations on flexible subsoil.
In 1955, Kany was appointed to introduce the field of soil mechanics at the State Trade Institute of Bavaria in Nuremberg LGA. With limited resources, he built up the LGA Soil Mechanics Institute, which grew rapidly under his leadership. He has been a member of the board of directors since 1974 and successfully led the LGA Soil Mechanics Institute for 32 years until his retirement in 1987.
In 1961, Kany proposed for the first time at the LGA Soil Mechanics Institute the use of electronic computing systems for settlement calculations. For this purpose, a computer program was developed for the ZUSE Z 23 electronic computer, and it was presented at the German Soil Mechanics Conference in Berlin in 1964. He was one of the world pioneers who developed the first computer program for settlement calculations worldwide.
The application of geotechnical software played a crucial role for Kany in all the work of the LGA Soil Mechanics Institute. The computer accompanied Kany throughout his entire professional life until shortly before his death. Therefore, in connection with Zuse - the inventor of the computer - he can be described as the founder of numerical methods in geotechnical engineering.
Based on his dissertation, Manfred Kany published the internationally recognized textbook "Analysis of Shallow Foundations" in 1959, which is still considered a standard work for the design of shallow foundations in the expanded two-volume edition of 1974.
As a result of his tireless research work over five decades, Kany wrote numerous contributions to national and international conferences, specialized books, and individual publications. He focused particularly on shallow foundations and their numerical calculation. For this purpose, he developed programs such as GEOTEC, as well as for other geotechnical problems such as the stability of slopes. Kany, together with El Gendy from 1991 to 1994, redeveloped the program ELPLA for the analysis of elastic foundations using various calculation methods. In 2006, Kany together with El Gendy and Hanisch integrated piled raft foundations into ELPLA, which offered the scientific community an early opportunity to better understand the complex interaction in combined piled-raft foundations.
In the field of soil investigations, Kany, as the founder and leader of the working group AK 2b (DGEG) and later NABau 05.11.00 "soil, drilling methods and sampling equipment" for DIN 4021, laid the foundation for the training of drilling equipment operators as early as 1971. This training and qualification, which has been mandatory since 1983, was continued with the specialist qualification according to DIN EN ISO 22475 and qualified drilling rig operators throughout Germany.
The training guidelines created by Kany are now a model for the qualifications of geotechnical specialists in the field of geotechnical field investigation standards, for both in Europe and in the ISO area. For his outstanding services in the field of standardization, Kany was awarded the honorary pin of DIN. Kany offered guest scientists from numerous Third World countries the opportunity to deepen their knowledge in the field of geotechnical engineering in research and in practice at the LGA. From 1977 he held lectures in geotechnical engineering as an honorary professor at the University of Erlangen-Nuremberg.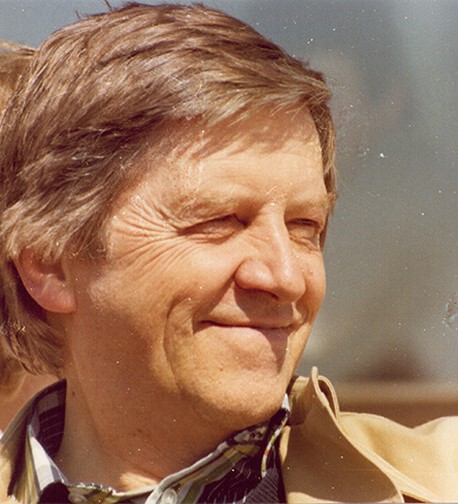 This photo shows Prof. Kany as few have ever seen him, in the early stages of his creative work with a lot of determination and the vision to create something completely new through the development and application of the emerging computer calculation programs.
In addition to his diverse responsibilities as a member of the LGA board of directors, as the head of LGA, and as a lecturer, Kany conducted numerous training events in which he imparted his extensive expertise to younger colleagues. Even after his retirement, Kany organized specialized seminars on geotechnical issues well into his old age. Kany rendered a particular service to the German economy in the field of expert assessment by initiating the formation of a "Soil Mechanics, Earthworks and Foundation Engineering" expert committee that would operate throughout Germany. The committee was established at the Nuremberg IHK and, under Kany's leadership, conducted the necessary assessments of publicly appointed and sworn experts in geotechnics from 1979 to 1998, a practice that continued even after Kany's retirement. Since 1952, Kany had been a member of the DIN NA Construction/Foundation Working Committee 1 "Calculation Methods" and the German Society for Soil Mechanics and Foundation Engineering (today DGGT), which was founded in 1949.
The standards DIN 4018 "Contact pressure distribution (shallow foundations)" and especially DIN 4019 "Settlement calculations," which were processed in the working committee "Calculation Methods," still bear his imprint to this day. With the publication of the DIN Technical Report 130 "Interaction between Soil and Structure in Shallow Foundations," which was created with his significant contribution, his geotechnical life's work was completed. Kany actively accompanied the working committee "Calculation Methods" for over 50 years until May 2002.
Prof. Kany's life was characterized by tireless, disciplined, and successful work for geotechnical engineering. His contributions to the geotechnical standards, to the technical recommendations issued by the DGGT and to the events of the DGGT are of lasting value to the scientific community.
All colleagues who had the opportunity to work with and learn from Kany look back with gratitude and recognition at the life achievement of this gifted yet modest engineer, which will not end with the memory of his 100th birthday.
Mohamed El Gendy
Jürgen Hanisch
Hartmut Schulz
Richard Herrmann

GEOTECHNIK 3 2022
GEOTEC Software Inc.
In 2014, GEOTEC Software Inc. was re-incorporated in Canada to continue developing GEOTEC Office suite.
GEOTEC Office Authors:  Prof. M. El Gendy and Dr. A. El Gendy